Tony Buzan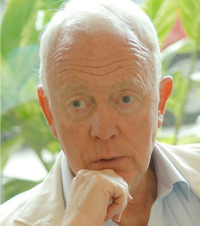 Tony Buzan is the world-renowned inventor of Mind Maps and the bestselling author of Head First, Head Strong and How To Mind Map. Tony Buzan is an advisor on the brain for governments and businesses. He also frequently runs lectures and consultations in both universities and schools on learning and thinking skills.
Tony was born back in 1942 and graduated from the University of British Columbia in 1964. Tony Buzan was a very bright man and received double Honors in Psychology, English, Maths and General Science.
Tony Buzans achievements are many, but he is best know for as the creator of mind maps. Mind Mapping is a thinking tool that reflects externally on what goes on inside your brain. It is a brain-friendly method of brainstorming and taking notes.
A prize-winning poet and athlete. An Olympic coach that also appears on TV. Tony Buzan is quite the all-rounder. All of his philosophies and work is based around the subject of the brain or the mind. His goal is to help other people improve on their learning and thinking skills. Things such as mind maps, speed reading and memory improvement are all topics that Tony Buzan has revolved his work around.
As an author, he has written 85 bestselling books that have sold an amazing 5 million copies worldwide. His books have been published in over 100 countries and translated into 30 different languages. For more information and references on some of Tony Buzan's books visit the self help books page. Two of his most popular bestsellers are Use Your Head and Head First.
Return to home from Tony Buzan