Mind Mapping Software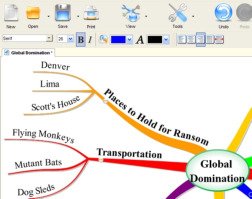 Using mind mapping software can be a great alternative to drawing them by hand. Both ways have their advantages and disadvantages but in my opinion, it all comes down to what you are using the mind maps for: Software is better for organisation purposes, for getting ideas and planning for something.
On the other hand drawing by hand is the option more beneficial to students. When you use mind maps to study for tests, take notes or to retain information, doing them by hand is always the better choice. This is because there has been links found between your brain and your hand movements when you write.
At the end of the day it is your call. Dependent on how much you will use your mind map software and what you will use it for, you will need to choose the most suitable package.
Although it will never compare to software you pay for, if you aren't going to use it a lot you should consider going for a free option. Click on the following link to take a look at the various free mind mapping software available.
iMindMap
This would have to be one of the most revolutionary and high-tech programs I have seen. I was blown away by the things this stuff could do. Honestly, once you use iMindMap you will never go back. It includes so many features that could not be done when drawn by hand. They even have an iPhone and iPod app that you can download for free.
For more information about iMindMap and how to purchase click here.
Inspiration
Another option is inspiration. Inspiration is another great mind map software but not as high tech as iMindMap. One of my favourite things about Inspiration is the photo library. It has thousands of clip arts that you can get by dragging directly onto your mind map.
For more information about Inspiration click here
Return to mind map from mind mapping software